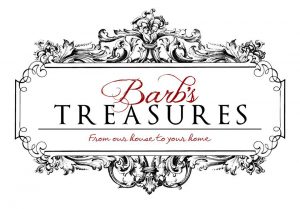 Barb's Treasures
3612 Route 23 North
Hardyston, NJ 07419
(973) 823-1511
barbstreasuresnj@gmail.com
GENERAL INFORMATION RE: CONSIGNMENT TERMS
As a Consignor, you agree to consign your item(s) to Barb's Treasures, LLC, for a period of 90 days.  After the 90-day period, if you have chosen to have the item(s) returned to you, you must pick up your item(s) within 1 week after you are notified or your items(s) will become the property of Barb's Treasures.  All unsold item(s) not picked up by the Consignor after the 1-week period are subject to be donated to charity.
Items may be brought in by appointment only, Monday through Friday, from 11:00 am thru 5:00 pm (exceptions may be made where necessary).  Up to 20 items per consignor within a 2-week period will be accepted.  Items must be clean and in excellent condition.  Items will be examined at the time of drop off and evaluated for acceptance.
Please Note:  Acceptance of items for consignment is at the sole discretion of Barbs' Treasures.
At the time of consignment, Barb's Treasures will establish the item(s) selling price with consideration for your interest and desire.  Thereafter, the price for an item is reduced by 10% every 30 days.
As a Consignor, you will receive 40% of the sale of your small items sold (such as home decor and knick-knacks), and 50% of the sale of your large items sold (such as furniture).  At that time, you may use your balance to shop in the store or you can pick up a check at the end of each month.
A consignor contract fee of $10 is due upon initial sign-up, and then paid annually based upon contract date thereafter.
NOTE:  Barb's Treasures is not responsible for any stolen or damaged items.
THIS INFORMATION IS PROVIDED AS A GENERAL OVERVIEW FOR A POTENTIAL CONSIGNOR.
PLEASE REFER TO YOUR ACTUAL CONSIGNOR CONTRACT FOR COMPLETE TERMS AN CONDITIONS.